Spring in Kyushu: Beppu and Yufuin, Sakuras, Waterfalls, Mud Bath Hot Springs, and Hiking the Kuju Mountain Range
Apr 09, 2022
In early April 2022, my husband and I took a 5-day/4-night trip to the Kyushu island to explore the onsen (hot spring) towns of Beppu and Yufuin, enjoy the peak of sakura (cherry blossom) season, and do some hiking in the Kuju Mountain Range. Our favorite parts of Japan have been the food, the natural beauty, and the relaxing onsen culture and this trip covered it all! We also really enjoyed this trip because, unlike city trips where we pack in lots of cultural sight-seeing and we return home exhausted, we experienced the perfect balance of adventure and relaxation, and were able to return home refreshed.
Imagine starting your day with a hike through the beautiful mountains of Aso-Kuju National Park, climbing to the peak of the tallest mountain in Kyushu, enjoying a post-hike burger and ice cream cone, relaxing in the onsen overlooking Mt. Yufu, soaking up the afternoon sun as you walk through sakura blooms, wandering along the small shops of the resort mountain town of Yufuin, and exploring hidden gems of locally owned and sourced traditional Japanese restaurants. If this sounds like your ideal trip, read on!
In this post, I will share:
Brief outline of our itinerary

About Kyushu, Beppu, Yufuin, and the Kuju Mountains: when and how to visit

Details of our trip: where we stayed, transportation, hiking routes

What to expect: packing list, general tips, budget

How to plan your own trip
---
Brief outline of our itinerary
Day 1: Evening flight from Okinawa to Fukuoka
Day 2: Pick up rental car, drive to Beppu, hike to Onbara Falls, explore secret onsens and mud baths, stay in Beppu
Day 3: Hike Mt. Yufu, stay in Yufuin
Day 4: Hike Kuju Mountain Range, stay in Yufuin
Day 5: Drive back to Fukuoka, afternoon flight from Fukuoka to Okinawa home
---
About Kyushu Island, Oita Prefecture, the towns of Beppu and Yufuin, and the Kuju Mountains
(Photo of the five main islands of Japan)
Japan and spans an archipelago of 6,852 islands. Kyushu Island is the third-largest island of Japan's five main islands, famous for its hot springs, active volcanoes, lush greenery, delicious food, relaxed lifestyle and friendly people. While there are several airports around the island, the airport in Fukuoka, Kyushu's gateway city, offers the most cost-effective and time-efficient flights. From Fukuoka, you can take a train or rental car to Oita, a prefecture (state) on Kyushu's east coast, known for its hot-spring towns, notably Beppu and Yufuin. The mountainous inland has hiking and cycling trails and is dotted with relaxing hot springs, for the perfect outdoor adventure.
Beppu, one of Japan's most famous onsen (hot spring) resort towns, is home to more than 100 public baths and more than 2,000 onsens. Second only to Yellowstone Park, Beppu hot springs have the largest discharge volume. It's an iconic view to look over the city towards the sea and see great clouds of hot spring vapor in the sky. Beppu also has a vibrant cuisine, arts, crafts and music scene.
(Photo of Beppu skyline with clouds of onsen vapor from Visit Kyushu)
Yufuin, around 10km from Beppu, is at the foot of Mt. Yufu. It is a highly walkable resort town, with shopping streets, cafes and galleries, and a wide choice of hot springs and hotels. The scenic views from the main street and across Lake Kinrin display Mt. Yufu towering in the background.
(Photo of Yufuin from Gajin Pot Travel)
The Kuju mountain range is part of the Aso-Kuju National Park and includes the highest peak on the island of Kyushu. The mountains are covered by a network of hiking trails that offer spectacular views of the volcanic terrain. Between late October and mid-November, Kuju becomes one of the best places on Kyushu to find fall colors.
(View from the peak of Mt. Nakadake, the tallest mountain in Kyushu)
---
Details of our trip: where we stayed, transportation, hiking routes
Day 1
Fly from Okinawa to Fukuoka, Peach flight OKA 6:35pm- FUK 8:25pm

Take short train from airport to Hakata Station and then short walk to hotel

Stay at

EN Hotel Hakata
Once we landed, we checked into our hotel and then explored the many delicious restaurants in the Hakata area, izakayas (bar-restaurants) in the Nakasu nightlife district, and met some locals at a yatai (food stall). Fukuoka is known for an area with hundreds of yatai (food stalls) offering ramen, oden (winter soup), gyoza (dumplings), yakitori (grilled chicken skewers), tempura, and friendly local conversation. Note- the last few times I visited, there were only a handful of food stalls due to COVID. Nonetheless, I had a great time meeting locals! If you're looking for a memorable experience definitely check out a yatai, if you're more interested in high quality food I'd recommend an upscale izakaya instead.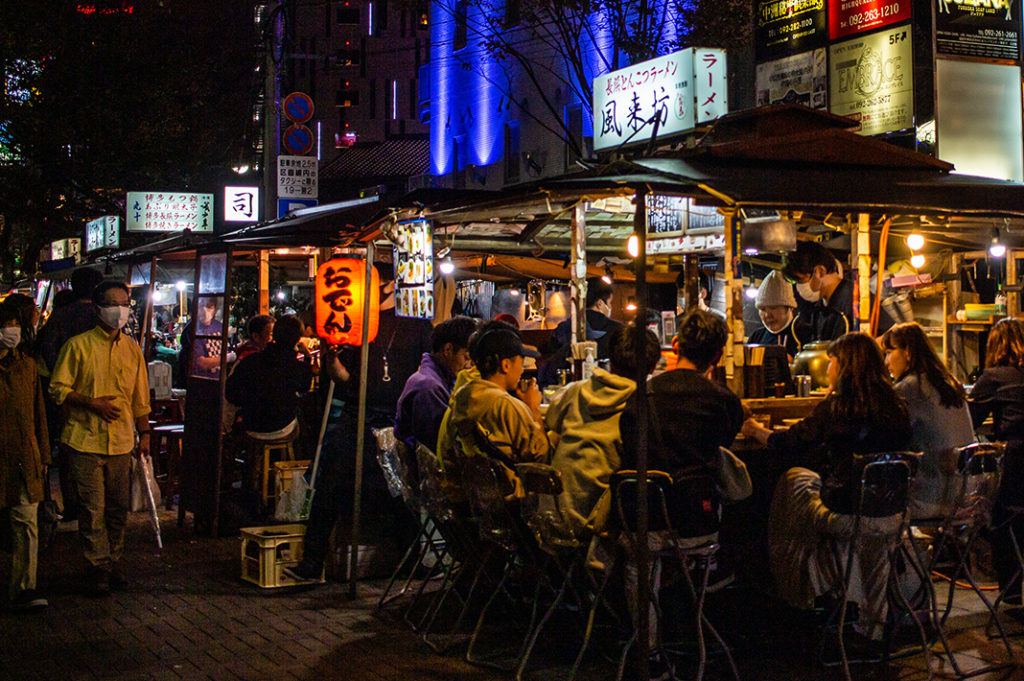 (Photo of Fukuoka Yatai by Japan Journeys)
Day 2
I find the Kyushu Island is best explored via rental car. Of course, public transport is readily available, but I think the best part of an adventure trip are straying off the beaten path. Cost wise, the trains can be quite expensive and take longer, so if you are traveling with at least one other person, it's worth renting a car. I always book rental cars via rentalcars.com! Be sure to ask for the ETC card so you can drive on the toll roads.
The hike to Onbara Falls is only 1-mile roundtrip, and offers an unusually stunning view in exchange for a super easy hike! Check out this blog for more details on how to get there and where to park. If you do this hike, be sure to not miss the main waterfall which is tucked around the corner.
(Onbara Falls)
Secret Onsens: There are two wild onsens, Nabeyama and Hebinyu, that are not exactly secret, as they can be searched on google maps! I found this short youtube video to very informative as they share how to get there and what to expect. We attempted to drive to Hebinyu first, but due to the recent rains, the unpaved road was not drivable. We then attempted to go to Nabeyama. At first, it looks closed but after some googling, we found out that the gate and warning sign have been posted for years and that locals still use the onsen. Even though the wild onsen was only a few minutes walk from the car, because of the hazy rain, it took us a while to find the hot spring. On a clear day, you have a beautiful view of the mountains and ocean, but we couldn't see much. Dressing and undressing in the cold rain was also not fun. We also didn't realize until we were leaving that there was a way to help control the water temperature. Since the hot spring is wild, it can be dangerously hot and we couldn't dip more than our feet in for a few minutes. Be sure to figure out how to add more cool water BEFORE getting in. All in all, our wild hot spring experience was not great. If it's rainy or cloudy, I'd recommend you skip this. If you're visiting on a clear day, definitely do it!
(Photo of Nabeyama Onsen from JP Onsen)
Hoyoland Onsen: This is one of Beppu's most rare and exciting onsens. This incredibly unique onsen is tattoo-friendly and has mixed-gender areas that are perfect for foreign couples. For those who are not familiar, traditional Japanese onsens do not allow tattoos and are divided by gender as bathers are required to be fully naked. Hoyoland is a good onsen to try out if you are travelling with a friend or partner of the opposite gender, as you can enjoy the onsen together. This traditional onsen that offers indoor, gender-separated hot springs from milky white to mud bath. The outdoor mud bath is mixed-gender, separated by a bamboo railing. I felt super comfortable in the mixed area because I was able to keep my body hidden in the water. We had a lot of fun rubbing the mud all over ourselves and giving ourselves facials, as the mud in Hoyoland Onsen is said to nourish your skin, making it smooth, soft, and just appear more youthful. I highly recommend it!
(Photo of Hoyoland Onsen from Enjoy Onsen and Visit Kyushu)
After our drive, hike, and onsen- we didn't have much time to explore the city of Beppu. If the weather was better, we would have explored the shopping area or the Beppu Ropeway. We checked into our hotel and then walked to dinner at a nearby, upscale izakaya.
(Dinner at Tosaka)
Day 3
We got lucky with clear weather on this day! We took the opportunity to visit Beppu Park to see the peak sakura blossoms. Beppu Park boasts an impressive bamboo forest along with over 700 pine trees, a massive flower garden, and more than a hundred cherry blossom trees and plants. The cherry blossoms with the flower garden were stunning!
(Sakuras from Beppu Park!)
Next we headed towards Mt. Yufu and Yufuin. Mt. Yufu is between Yufuin and Beppu, and is the mountain towering over the resort town of Yufuin. It is a 7km hike round trip with more than 700m of an incline up the switchbacks. It took us about 4 hours, including the extended time spent enjoying the beautiful views and eating lunch at the top. I definitely recommend it if you have good weather, but wouldn't recommend if the sky isn't cloudy. There are great 360 views of the ocean, Beppu, and the Kuju mountain range. Details and map here.
(From the peak of Mt. Yufu, with a 360 view from the ocean to the Kuju mountain range)
After our hike, we checked into our hotel Yufuin Akarinoyado, which I loved! When I booked, the only room available was family style without a bathroom. This meant that we had 4 beds; two bunks and two twins. The shared bathroom was outside of our room, but it was immediately next to our door. I didn't mind it at all. There was also a shared kitchen. The best part of this place were the onsens. It had 3 onsens that were all private, meaning we could go in together without having to worry about our tattoos. We didn't have to worry about availability, there was always one open when we wanted. The 2nd and 3rd floor onsens have an incredible over looking Mt. Yufu and the town of Yufuin.
(View of Mt. Yufu from the onsens at our hotel)
Next, we explored Yufuin, a highly walkable resort town, with quaint shopping streets, cafes and galleries. We walked around the main shopping street, eat street snacks (cheesecake from Milch, Japanese croquette from Korokke), walking through Yufuin Floral Village, and walking around Lake Kinrinko.
(Yufuin Floral Village and Lake Kinrinko)
We finished with dinner at an off-the-beaten-path izakaya, Yamaya (やま家 on google maps). The google reviews named it a hidden gem and the door boasted a Michelin Guide sticker. The small restaurant was run by a friendly husband and wife and served fresh, local traditional Japanese cuisine. Highly recommend!
Day 4
We started our day with an hour drive to the Kuju Mountain Range. We followed the details from this blog to park at the Makinoto trailhead and completed the 11-km/5-hour out and back hike to Mt. Nakadake, Kyushu's highest peak! It was a beautiful hike. If you are hiking this in the spring, be prepared for lots of mud, would recommend gators. Note- There are many other possible hikes, especially if you want to be closer to the Mt. Aso area. We opted to stay closer to Yufuin due to the recent eruption of Mt. Aso.
(View from the top of Mt. Nakadake, the tallest peak in Kyushu!)
On our way back to Yufuin, we stopped at the Kokone Yume Otsurihashi Suspension Bridge, Japan's largest pedestrian suspension bridge. The bridge offers marvelous views of Shindo Falls and the Kuju mountain range. It is fantastic in the fall colors. Here we got local-beef burgers and ice cream!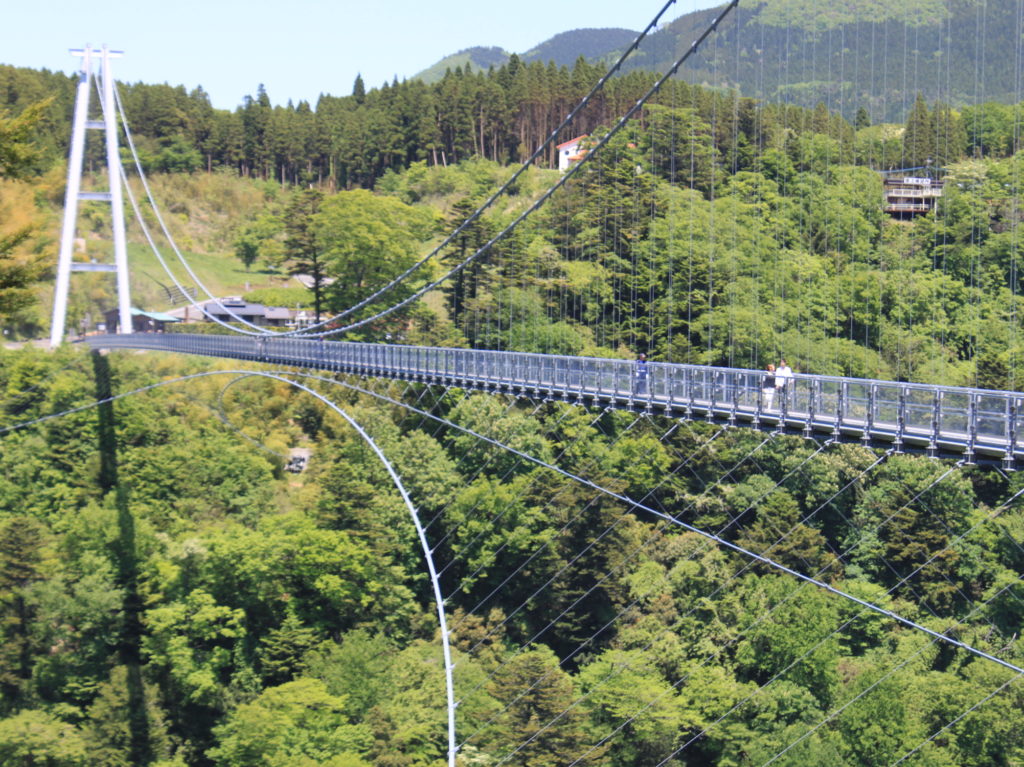 (Photo of Kokonoe Yume Suspension Bridge from Explore Kumamoto)
Back in Yufuin, we hit the onsen, then did some more exploring around town. We walked along the river to see the sakura trees framing Mt. Yufu.
We ended our evening with another fantastic dinner at a small, family-owned Italian restaurant, Bar Junne (湯布院 バルジュン on google maps). After living in Japan for 6 months, we were craving some Italian and we were so lucky to find this authentic, delicious food. Be sure to make a reservation if you want to go. We didn't have one, but I asked if they could seat us in case they had a cancellation. They asked us to come back an hour later to check, and they were able to seat us! It was perfect since it was my husband's 30th birthday! The staff was so kind and even brought out a dessert with a candle and sang to us. The perfect birthday dinner!
(Celebrating his 30th Birthday with authentic Italian at Cafe Junne)
Day 5
Drive back to Fukuoka, return rental car

Explore Hakata Station

Fly home FUK 11:55am- OKA 1:45pm
Details: On our final day we drove from Yufuin back to Fukuoka. We returned the rental car and then killed extra time at the Hakata train station. The area is huge with lots of shopping and food options.
---
What to expect: packing list, general tips, budget
General tips
Onsens:

Food: Each restaurant we tried served locally sourced ingredients and the food was delicious.

Cell service: When hiking, the service is limited. Be sure to offline download or screenshot trail maps, or use

YAMAP

to view the hiking route offline.

Weather: We found google weather to be accurate! Be sure to plan alternatives if you have cloudy/rainy weather. For example, the Beppu Ropeway and hike to the top of Mt. Yufu is only worth it on clear days.

Airline baggage: We were able to fit everything we needed for this short trip in carry on sized backpacks
What to pack
Small day pack for hiking: We brought one small hiking day pack with a 2L hydration pack to share for hiking. This was perfect for the two of us.

Layered hiking clothes: The weather can change from hot to cold quickly in the spring. Pack quick-dry clothes that can be layered, and be okay with re-wearing top layers. For two days of hiking, recommend two short-sleeved shirts, one long-sleeved shirt, two leggings, micropuff jacket, gloves, raincoat, hiking boots, wool hiking socks, blister bandaids

"City" clothes: For the two travel days and three post-hike days, recommend jeans, two short-sleeved tops, 2 long-sleeved tops, extra undergarments if you plan to use the onsens more than once a day

Sunglasses, sunscreen, hat

Yen: Many restaurants and street food vendors take yen only.
Expenses
Transportation Costs
Roundtrip Peach flight for 2 passengers:

¥

30,040

Car Rental ¥12,146

ETC (Tolls) ¥7,160

Gas ~¥3,000
Accommodation Costs
Food Costs
Day 1 dinner: $79.83

Day 2

breakfast/lunch/snacks

: ~$30.00

Day 2 dinner:

yen only! ~¥10,000

Day 3

breakfast/lunch/snacks

: ~$30.00

Day 3 dinner: $80.72

Day 4

breakfast/lunch/snacks

: ~$30.00

Day 4 dinner:

yen only! ~¥10,000

Day 5

breakfast/lunch/snacks

: ~$30.00
Total costs for both of us, including flights: ~$1000
Recommended budget of $500 per person for the entire trip!
Planning your own trip
1) Decide on the dates and create a rough itinerary outline. The best times to visit Kyushu for the prettiest hiking views are late spring and peak fall. We went in March 30- April 3 and saw peak cherry blossoms, but the mountains were very brown without green trees. Budget for about $500 per person on everything (including flights).
Example itinerary:
Day 1: Evening flight from Okinawa to Fukuoka
Day 2: Pick up rental car, drive to Beppu, hike to Onbara Falls, explore secret onsens and mud baths, stay in Beppu
Day 3: Hike Mt. Yufu, stay in Yufuin
Day 4: Hike Kuju Mountain Range, stay in Yufuin
Day 5: Drive back to Fukuoka, afternoon flight from Fukuoka to Okinawa home
(if you have extra days, you can add in an extra day of hiking Mt. Aso or visit Takachiho Gorge before returning to Fukuoka)
2) Book rental car. I like rentalcars.com because of the generous cancellation policy.
3) Check seasonal conditions and pick which hikes you want to do.
4) Book hotels. I like to use agoda.com for booking in Asia!
5) Make dinner reservations. If you plan to go to any of the restaurants I linked, I'd recommend calling and making a reservation. There are so many dinner options though, I don't think this is necessary.
5) Pack! Be sure to bring enough yen cash. I'd recommend about ¥30,000 in cash.
---
Final Thoughts
This trip is the perfect combination of all of our favorite parts of Japan; the local foods, the natural beauty of waterfalls and mountain peaks, the beauty of peak sakura blossoms, and the relaxing onsen culture! After several trips jam-packed with history and culture, this was a much-needed nature get-away.
As always, feel free to reach out with travel questions, and please let me know if you take this trip!